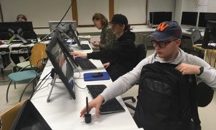 Trip to the Lybecker Institute, Raahe, Finland, October 2017
In October 2017, I went as a teacher with three students, Lovísa Rut Lúðvíksdóttir, Alex Snær Baldursson and Kristófer Ingi Sigurðsson for a exchange program to Lybecker Institute in Raahe in Finland. Two of the students were in the second year of study at Borgarholtsskóli but the third student was in her final year of study. All of these students studied film in the art department of Borgarholtsskóli. I stayed for one week but the students for 4 weeks.
The trip was instructive, preparation in Borgarholtsskóli and receptions in Finland was excellent. We felt very welcome and the school facilities were good. It was informative for me as a teacher to be able to compare facilities, as well as the structure of the programs and be able to see what is well done and what we could learn from to the school and the program in Lybecker.The structure of the study was in most way similar. But in Finland a high priority was to get a "real" project outside of the school. Our students got to work on a project in one of Raahe's advertising agency and promotional project, organized in collaboration with teachers and a local museum. A very instructive process.
An instructive and enjoyable trip and fun to see how the exchange program seemed to increase a confidence of our students, especially with the younger ones. Everyone learned and enjoyed both from the exchange program and the overall journey.
Kristín María Ingimarsdóttir