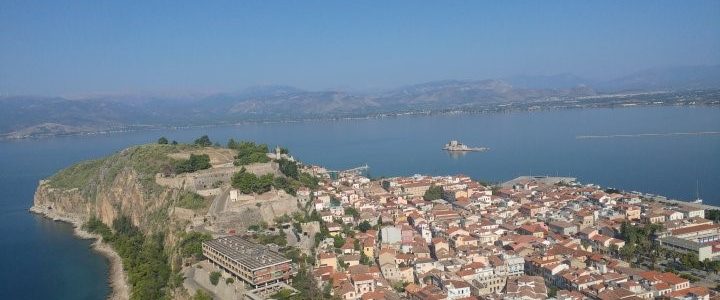 Teachers' course: "Facing Diversety – Classsroom management" course in Nafplio Greece
  https://www.teacheracademy.eu/en/

We, Guðrún Guðjónsdóttir and Inga Ósk Ásgeirsdóttir, attended an Erasmus course in Nafplio Greece from August 27th till September 1st 2018. The course's name was "Facing Diversity – Classroom management". The course lasted 6 days, 5 days of lessons and on the 6th there was a daytrip to the islands of Hydra and Spetses, both very beautiful and popular tourist destinations. Nafplio is a seaport town in the Peloponnese in Greece that has expanded up the hillsides near the north end of the Argolic Gulf. The town was an important seaport held under a succession of royal houses in the Middle Ages as part of the lordship of Argos and Nauplia, held initially by the de la Roche following the Fourth Crusade before coming under the Republic of Venice and, lastly, the Ottoman Empire. The town was the capital of the First Hellenic Republic and of the Kingdom of Greece, from the start of the Greek Revolution in 1821 until 1834. On the top of the town is an old fortress, built by the Venetian and the Turkish and used as a prison until until 1920s. The participans were 12 from 6 countries, Bulgaria, Finland, Spain, Portugal, Cyprus, Hungary and of course Iceland. The teachers of the course were Greek, Dimitri and Foteini. They taught us all about diversity, inclusion and class management. Their approach was very student based and they stressed the importance of using cooperative methods focusing on motivation. During lessons, we shared our experience which was very rewarding and we, the Icelanders, found it remarkable that there was much more support for students with special needs in some of the other countries. Nafplio is incredible beautiful town and we stayed at Hotel Aganemmon in the old town. The hotel was very good and well situated at the harbour. There is a nice beech within a walking distance and plenty of good restaurants local shops in the narrow streats of the old town. Moreover, there are many things to see nearby, fx. the archeaological site of Mycenae from 1350 BC which we visited by taxi. To summerize, we were very happy with the course, the only criticism is lack of recesses and lunch breaks, because the teachers were so enthusiastic! We made good friends in Nafplio and can truly recommend this course.