Exchange students in Finland, car painting students.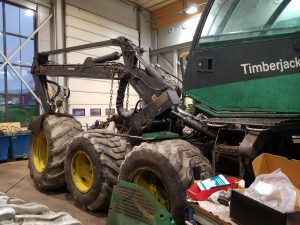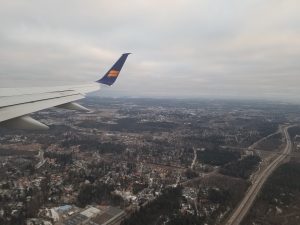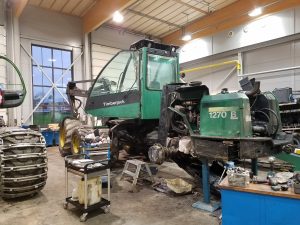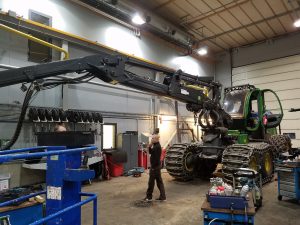 In October 2018 we got an invitation from our teachers to go to Finland as exchange students for a month. We liked that idea and we went to Finland in November. We landed the 14th of November in Helsinki and took a bus from there to Pori which is the town next to our little village that is called Ulvila. We were picked up and driven where we were supposed to live, on the campus. We went to the school Sataedu. Sataedu has different departments and we went to the vocational training department. It only took us 1 minute to get to school from where we were living. We got a nice apartment with 4 bedrooms, kitchen, living room and 2 bathrooms.
There was one teacher who spoke good English and we consulted with him about what we were supposed to do over the time we were there. We got a project right a side skirt on a car. We worked mostly on our own and if we needed any tools they took us to the store to buy what we needed. We fixed 3 cars overall and these were all cars with owners from the school which was new for us. In Borgarholtsskóli we only work with cars that the school owns.
We got to go on trips with the teachers to explore Finland more. We drove to Tampere and there we got a whole day to walk around, take pictures and go shopping. We also went to a workshop for tree cutting machines where we got to see the machines and what they were fixing. Later we got to try out a simulator where we got to see how it is to work with these machines. Over weekends we got a car that the school owns to explore what we wanted and where interested to explore. We mostly went to Pori to go grocery shopping, eat out and look at all kinds of stores, mostly that sell tools. There was a grocery store 2 minutes away from where we lived and 2 fast food restaurants that we knew of in walking distance in Ulvila. Our school started at 8:30 and we got a brake and lunch. We could go to the cafeteria to eat but we decided to go home to eat since we were so close to the school. The teacher bought food for us twice, the first day when they were showing us around the school and later for one of our last day when there was a Christmas buffet.
We got to go to an ice hockey game which is the national sport in Finland. It was very interesting and fun since there is not as much ice hockey in Iceland.
We were asked to make a presentation about Iceland for the students that are learning about traveling, and tell them about the main things about Iceland, both pros and cons about living in Iceland. Also to compare it to what we had experienced in Finland. Suomi is a very complicated language and we did not learn much, we used "kitos" most which means thank you.
This was a really a good experience and it was fun to get the opportunity to travel and study in another country and learn a lot of new things at the same time. We stayed there until the 14th of December and we took a train to the airport at 7:30 in the morning.
Árný Eir Kristjánsdóttir and Gabriel Sveinsson.